"Ripple Effect's work is truly done in partnership with those that we serve in Africa. Seeing their work first-hand in Kenya helped me to see how passionate and caring our field staff are about walking alongside farmers, increasing their knowledge, their crop yields, their income and their ability to thrive in rural Africa. It truly is life-sustaining work that is making an incredible difference in the world, and I am so honored to support it."
Robyn Davis Sekula
Chair
Chair of US Board of Trustees
Robyn Davis Sekula
In her working life, Robyn Davis Sekula is Vice President of Communications and Marketing for the Presbyterian Foundation in the Louisville, KY area. She oversees strategic communications from the Foundation to the Presbyterian Church (U.S.A.)'s two million members. She has worked as a communications and marketing consultant for non-profit organizations and businesses and also as a journalist and writer. 
She joined the US Board of Trustees in 2015, visiting farmers in western Kenya in 2017 and Rwanda in 2019.
Lynn Foden
Lynn has spent over 25 years focused on development in Africa beginning right out of college in the Peace Corps in the Democratic Republic of Congo. Her experience includes work with NGO's, the private sector and the US government. She is passionate about gender equality and ensuring that no one is left behind in accessing sustainable and affordable basic services. 
Lynn is currently the CEO of a non-profit, Thrive Networks which specializes in providing last mile distribution of water and sanitation services in South East Asia.
Elzadia Washington
Elzadia Washington is a retired Senior Foreign Service Officer who served for more than thirty years with the United States Agency for International Development (USAID). She has hands-on experience and knowledge of sustainable development. Ms. Washington is currently the owner and operator of the Vera Heritage Farm, LLC producing naturally-grown vegetables in rural Arkansas.
Amy Gopp
The Reverend Amy C. Gopp serves as the first female senior pastor in the history of the Kent United Church of Christ in Kent, Ohio. Prior to joining the Kent UCC, Amy served as a global activist and peacemaker. A passionate activist for gender justice and girls and women's education and empowerment, Gopp is one of the key founding leaders of the interfaith We Will Speak Out U.S. coalition and campaign to end sexual and gender-based violence.
McGrath Thomas
McGrath Thomas has more than 30 years of experience in international development and providing transformational leadership to international organisations. As U.S Peace Corps Country Director in three Africa countries, she managed the country program supporting health and HIV/AIDS, educations, economic development, water and sanitation and youth development
Paul Stuart
Paul qualified as a chartered accountant with Ernst & Young before spending over 20 years in international business. During this time he developed partnerships in a number of different countries whilst leading an international publisher. He lived and volunteered with an international NGO in Mozambique for a year and joined Ripple Effect in 2013. Paul is also a Trustee of Development Initiatives.
Peter Hinton
Peter has over 30 years of commercial and private equity experience in the UK and Africa. He works with impact investors in sub-Saharan Africa and tutors on the Oxford Impact Investment Programme where he is an associate fellow at Said Business School.
Andre Nsengiyumva
Andre has more than 15 years of experience in international development with NGOs, working both in humanitarian response and in the development sectors. Andre is not new to the Ripple Effect family, having been the Country Director in Rwanda and Burundi before joining his family in Canada. Currently, he is completing a Career Bridging course on Leadership and Management program at Collège Boréal, Canada.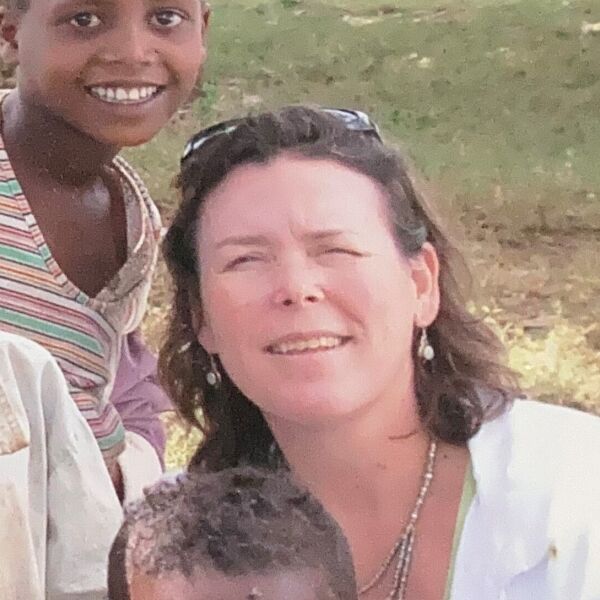 Leslie Mitchell
Leslie Mitchell is a seasoned international development professional with 20+ years of senior management experience in developing countries in Africa, Asia and Eastern Europe. 
As Country Director in Romania, Ethiopia, Kenya/Somalia she has provided overall strategic direction and overseen and managed a large donor funded portfolios with a diverse group of non-profit civil society organizations, building their institutional and technical capacities in a broad range of social and program areas including child protection, women and girls, natural resource management, peace building and conflict management, democracy and good governance, micro-finance among others.
Director of US Development
Mike Coburn
Mike Coburn is a non-profit leader in Washington, DC area who has dedicated his career to empowering international humanitarian and development organizations. Prior to Ripple Effect US, Mike served as the Director of Development at Lutheran Immigration and Refugee Service where he managed the organization's development team. He has also served as director of development for CBM and as the associate director and acting executive director at the US Association for UNHCR (the UN Refugee Agency).
Sign up to hear more
Want to hear good news stories from Africa, get involved in fantastic fundraising and be part of exciting events? Fill out your details below and we will keep you updated by email.