Riverford and Ripple Effect - Farmers Supporting Farmers
Ripple Effect's partnership with Riverford Organic Farmers officially started in 2010, but our relationship extends back to the 1990s, when Riverford founder, Guy Singh-Watson, first visited a group of farmers who had been working with Ripple Effect (then Send a Cow) in Uganda.
As one of our longest and most loyal supporters, and in his capacity as one of our patrons, Guy continues to be a fantastic advocate for our work. He says:
"I remain confident that it would be very hard to spend your money more effectively in bringing about lasting positive change in the lives of some of the world's most disadvantaged people, than by supporting Ripple Effect."
Over the course of our partnership, Riverford customers and co-owners have generously donated over £950,000 – a remarkable contribution which has transformed the lives of thousands of farmers in east Africa. Ripple Effect and Riverford have collaborated on some truly life-changing projects, supporting rural farmers to build climate resilience, establish prosperous local businesses, and live and work alongside one another within a thriving community context.
Current and past projects supported by Riverford
The Kyotera Push-Pull Project, Uganda (2020 - 2023)
Maize is the staple crop in central Uganda, but overwhelming issues with insects, such as the stemborer moth and fall armyworm, have a devastating impact on crop yields in the region.
Push–Pull technology is a simple but innovative intercropping strategy used to control pests and improve agricultural yields, developed by the International Centre of Insect Physiology and Ecology (ICIPE). The technique works by using 'push' plants – typically desmodium, a legume - and 'pull' plants, such as brachiaria or napier grasses, in amongst cereal crops like maize and sorghum. Pests are repelled by the desmodium, and instead attracted towards towards the grasses – thus protecting the maize. At the same time, desmodium acts as a cover crop to keep moisture in the ground during periods of drought, increases yields by fixing nitrogen in the soil, and, along with the grasses, can be used as animal feed. As a result, farmers' levels of food security, financial stability and ability to withstand the climate crisis are all hugely increased.
The Kyotera Push-Pull project is the successor to the Rakai Orphans Project, also supported by Riverford and described below. All 400 participating households in the Kyotera project are graduates of that initiative.
Major achievements:
Before this project began, almost 20% of farmers were experiencing more than two hunger months per year; now, 95% of participants are experiencing less than two.
72% of farmers are earning more than $2 a day
87% affirmed that they had confidence in maize contributing to their household food security
The Fruit Trees Project, Ethiopia (2022 - 2037)
In the Wolaita region of Ethiopia, families largely depend on subsistence farming - meaning they grow just enough to feed themselves, and have nothing to spare. However, extremely difficult growing conditions, caused by prolonged droughts and rising temperatures, are meaning that even this basic level of food security is now under threat. When coupled with a lack of crop diversification and no other avenues of income, households face long periods of significant malnutrition.
The Fruit Tree project has been designed not only to help ensure the ready availability of nutritious and marketable fruits, but also to tackle the climate emergency, by removing carbon from the atmosphere and regenerating the land. Ripple Effect are supporting 2,900 families across 28 kebeles (villages) to grow and manage 44,000 apple and avocado trees. It is estimated that around 27,000 tonnes of carbon will be sequestered in the trees' first 15 years, for which the first measurements will be taken in 2027. To support with this, Ripple Effect are partnering with two other organisations - Climate Stewards, a carbon offsetting charity who assess the project against rigorous standards, and Terepeza Development Association, a local Wolaita community group, who will be measuring tree growth.

You can read more about the project in this blog from Zac Goodall, Riverford's Head of Sustainability, after his visit to Ethiopia last year.
The Rakai Orphans Project, Uganda (2016 - 2020)
Communities in the Rakai district of central Uganda were hit particularly hard by the HIV/AIDS epidemic, leaving behind countless orphans and single-parent households. Many children were left to look after their younger siblings, and parents found themselves taking in extra children whose own mothers and fathers had died. With unpredictable weather and an increase in pests caused by climate change, families were under extreme pressure just to get by.
Supported by Riverford, Ripple Effect worked directly with 400 orphaned households for four years, giving them the tools and training they needed to succeed. The results were impressive: food security increased from 3% to 94%, the number of households reporting an income above $1.25 per day increased from just 9% in 2016 to 78% in 2020, and for every person enrolled in a self-help group in this project, 10 more benefited indirectly. The community is now strongly bonded, more resilient and healing from the scars of the past together.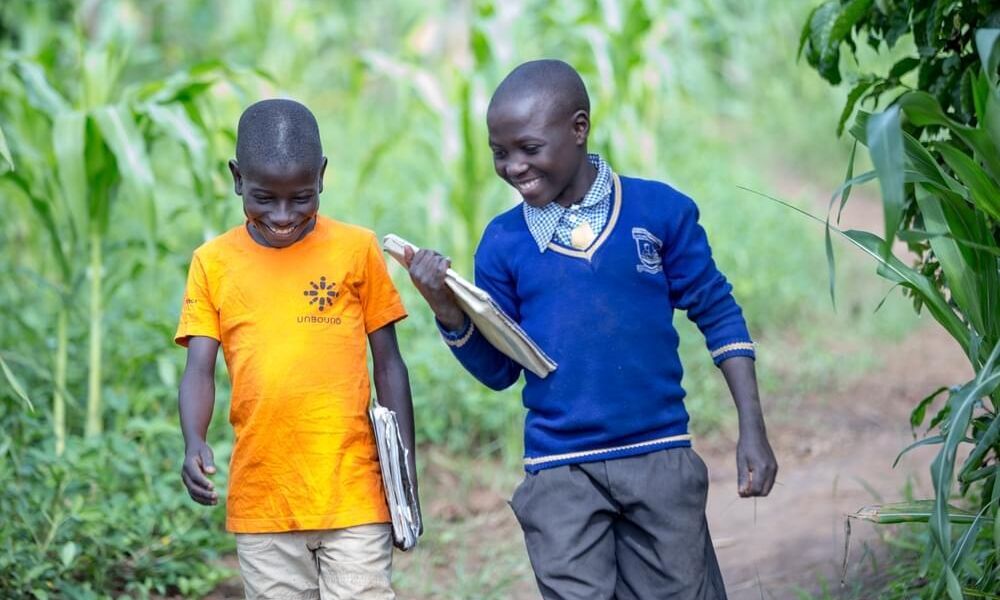 Sign up to hear more
Want to hear good news stories from Africa, get involved in fantastic fundraising and be part of exciting events? Fill out your details below and we will keep you updated by email.