Why I won't be vegging out this new year!
---
Vicki from Riverford Bath shares her #ReasonstoMove this January, and gives some top tips for wholesome meals to fuel your half marathon training.
Reasons to run
Having had back problems for the last two years, it's important for me to stay active, so I'm training to run the Bath Half marathon this March and raising funds for Ripple Effect. This will be my sixth half marathon and it will be the third time that I've 'run the Bath', as they say!
The Bath Half is a great goal as it keeps me running over the winter when I would otherwise be kicking back on the sofa with Netflix and a mince pie! I chose to run for Ripple Effect because they're the charity partner of Riverford Organic Farmers.
Riverford and Ripple Effect share a belief in good farming as the source of food, livelihoods and communities. Here at Riverford Bath we've supported Ripple Effect's 'herd' of runners in previous Bath Half marathons with fruit at the finish line, so I decided it was about time that I joined the herd myself, to raise funds to support families in Africa, enabling them to escape poverty for good by growing enough nutritious food to thrive.

Vicki and her husband, Alan
Top training tips
I'm lucky to live in the stunning Limpley Stoke valley, just outside Bath, with beautiful and varied running routes on our doorstep and plenty of hills! I try to do a long run once a week, plus either hill or speed training. I've discovered a brilliant podcast called Podrunner – you run to the beat, so it helps you to do various types of speed training, without a stopwatch.
There's still plenty of time to join the Ripple Effect herd -it's around nine weeks to go until race day, and it's the ideal time to start a training plan if you already run a bit. I recommend using one of the training plans on Runners' World or BUPA to get started.
"It's so important for runners to do things other than just run - endurance, strength and flexibility are crucial to avoid injury, and for me Pilates is particularly vital to make sure that my back and core are strong, as they're my weak areas"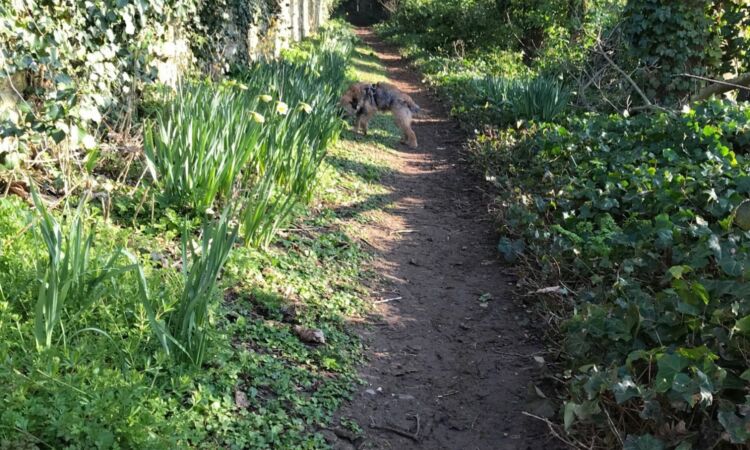 A beautiful place to run
The right kind of fuel
My job involves managing Riverford organic veg box deliveries in and around Bath and cooking with and for people at Riverford events. I've always loved cooking and I especially love helping people to try cooking vegetables in more interesting ways, so they can get more into their diet.
Generally, I eat a pretty healthy diet, with lots of fruit and veg as you might imagine! But like everyone else, I'm partial to a bit (too much) chocolate over Christmas, and now that it's January it's time for that to stop!
When you're training, you want to stay light but you also need enough energy, so I tend to increase the amount of legumes I eat (beans, lentils etc), add grains to my soups and salads, and also increase things like sweet potatoes. I think the important thing is to keep eating real food so that your calories provide nutrition for the demands you're putting on your body. So if you're craving a biscuit, have a banana instead!
I'd encourage anyone to give running a go. There's loads of help available – if you've never run before, the NHS Couch to 5K program is a brilliantly structured way to get you running distances you might never have thought possible. And once you've done that, you can set your sights on a half marathon.

Vicki mid-run in Cornwall
Sign up to hear more
Want to hear good news stories from Africa, get involved in fantastic fundraising and be part of exciting events? Fill out your details below and we will keep you updated by email.