An innocent visit to Kenya
---
We're delighted to be working with Reka, Group Ideation Manager at innocent drinks. She is this year's innocent foundation scholar and is spending 10 days with the Ripple Effect team in the UK and Kenya.
We asked her to reflect on her experience so far:
"The innocent foundation has worked with Ripple Effect since 2004 – one of our longest-standing partnerships. So when I heard the news that I was chosen to do a scholarship with Ripple Effect last year, I was hugely excited by the opportunity to get a better understanding of their work and to do my part in making a difference.
The starting point for my scholarship was Ripple Effect's ambitious new strategy that sets out to deepen their impact at household level and to scale their work to reach one million people a year in Africa by 2020. As part of this, I was tasked to review the current marketing and communications approach with supporters in the UK and to help lay the foundations for a new brand strategy that would help them achieve their goals.
I first spent three days in Ripple Effect's head office in Bath, where I had the chance to get under the skin of the organisation's history and journey to date. This involved various workshops and lots of conversations with team members. It not only helped me to better understand the Ripple Effect's brand, but what really stuck with me was the teams' passion and belief in their holistic approach and lasting impact.
I then departed for a one-week field trip to Kenya, with the purpose to meet the regional team and to visit smallholder farms in order to hear and witness Ripple Effect's impact first hand.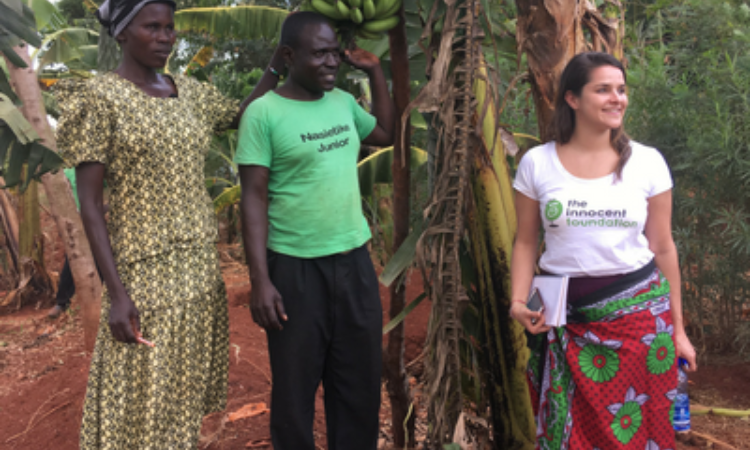 She welcomed me to her home and proudly showed me around her farm
Right now I'm four days into my scholarship, writing this blog article from Ripple Effect's Kenyan head office in Kakamega. It's been an unforgettable experience so far and I've felt hugely inspired by the stories of the farmers, predominantly women, who I met.
One of them is Prisca Josiah, a mother of three and grandmother of 15. She welcomed me to her home and proudly showed me around her farm - a visible manifestation of how she turned her life around and how she lifted herself out of poverty. She told me how she used to try make a living by making and selling an illegal alcoholic drink called 'changaa'. A period of her life that was marked by fear and hopelessness, not being able to provide for her family and send her children to school.
Today – as she told me with a huge smile - she runs her own farm, owns two dairy cows and grows vegetables and fruit, such as arrowroots (a traditional breakfast delight in Kenya!), pawpaws (the local way to say papaya) and bananas. This is allowing her to feed her family, send her children to school and even teach and help out other farmers in need. A complete change to her life that was enabled by Ripple Effect's training and support.

I felt humbled by the warmth of their welcome and their generosity.
Another highlight was the various trips to visit community groups – usually formed by 15-25 farmers who set up a platform to meet on a regular basis and to support each other. I felt humbled by the warmth of their welcome and their generosity. I even received gifts, such as eggs, a huge stem of bananas (which might not fit in my luggage…) and three kangas (colourful garments traditionally worn by women and men throughout the Great African Lakes region.)
I'm grateful for the experience I've had and would like to say a big Thank You to Titus, Alfred, Isaac, Maurice, Kenneth, Nick, Fiona and the rest of the Ripple Effect teams in Kenya and in the UK for hosting me and for giving me the best immersion possible. I am excited to return back to the UK for the two final days of my scholarship, to share my findings and to brainstorm ideas for future communications that will help Ripple Effect reach and support more farmers and her families in the future."
Sign up to hear more
Want to hear good news stories from Africa, get involved in fantastic fundraising and be part of exciting events? Fill out your details below and we will keep you updated by email.