Make this Harvest one to remember with our free resources and special event in September. Follow the links below to find out more.
Start a ripple effect this September
You are invited to our virtual Harvest event to meet with Mele and Winnie from our teams in Zambia and Kenya to hear about the challenges farmers are facing and how bees are making a difference this harvest.
Find out more
Harvest resources
Sign up to receive your free resources to make your 2023 Harvest celebration one to remember.
Find out more
How a gift from your church can make a difference
£140
could help 10 families fight the climate crisis with Super-Strong seeds. The climate crisis is making it hard for families in rural Africa to grow a better future for themselves. By equipping families with resilient seed varieties that suit the changing climate, crops have the best chance of surviving periods of extreme drought and flooding.
£210
could provide 10 families in rural Africa with Top-Notch Trees. Planting trees can help prevent soil erosion and put important nutrients back into the soil, ensuring families can produce a healthy crop for years to come. And what's more, the fruit help provide a healthy diet and a vital income for the family.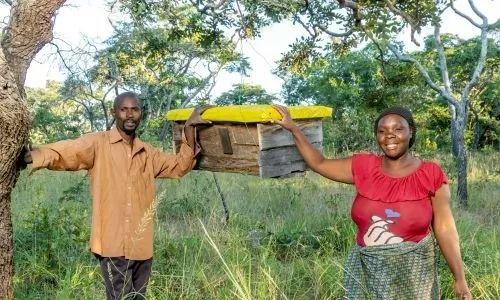 £350
could support 10 families in rural Africa with Brilliant Beehives. Brilliant Beehives can transform their land and provide wax and honey to sell at market. Bees pollinate a whole area, improving biodiversity and increasing crop yields, bringing immeasurable benefit to whole communities.
Thank you for supporting grandmothers like Agness this Harvest.
Sign up to hear more
Want to hear good news stories from Africa, get involved in fantastic fundraising and be part of exciting events? Fill out your details below and we will keep you updated by email.