Ripple Effect team take on Europe
---
By Sophie Porforio, Trusts and Foundations Manager, UK
We have been networking at two key European events recently. After two years of lockdown and virtual interactions, it has been fantastic to get out and about, meet new people face to face and talk about common areas of work and potential collaborations.

The Netherlands | Africa Day, climate debates and regreening Africa
Here our Africa Director Fred Ochieng represented Ripple Effect smallholder farmers on a panel debate about climate justice. Fred was joined by Mohammed Chahim (MEP), Anne van der Meer, Foundation Max van der Stoel and Lenna Vromans (PvdA) as moderator. The discussions were lively and people were passionate about the injustice of those contributing least to the climate crisis being impacted the most, ending in a rousing call to action and showing the vital importance of including African perspective in European policies.

Afrikadag had a diverse range of sessions, debates and workshops ranging from Dutch forest policy and Ecofeminism to the future of food and farming in Africa and the role of small scale agroecological food producers. There were sessions on equal trade, the social impacts of climate change and ethical communication.

There was also delicious African food and music, a mini African film festival and stands from a wide range of organisations selling African fashion, art made of recycled materials and beautiful African products. It was a day of debate, politics and culture and we left happy but exhausted, with just enough energy to be interviewed by Africa Web TV and to take some photos against the Sustainable Development Goal backdrops (see pictures below).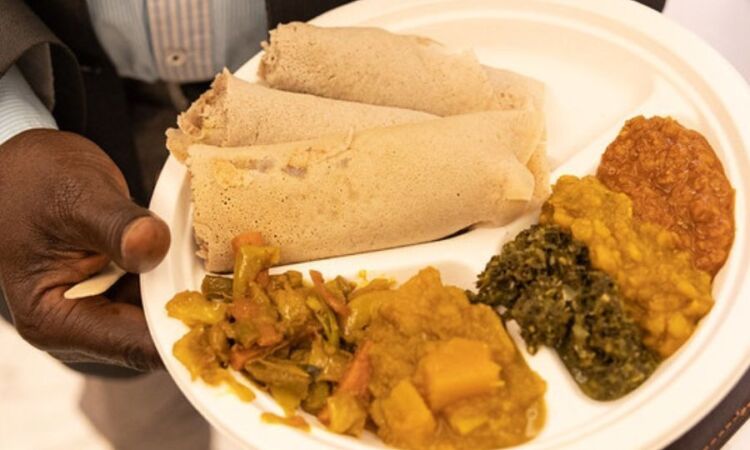 Fred, Sarah Williams and myself (Sophie Porfirio) stayed on for a few days in the Netherlands and roamed the city and wider country by all forms of transport – tram, bus, metro, train even bicycle! We had meetings with an inspiring and eclectic mix of organisations, which involved:
Talking about regreening Africa with JustDiggit and being inspired by their innovative approach to engaging communities
Discussing partnership with commercial organisations and enterprise development with Cordaid
Discussing digital health services with Triggerise
Exchanging Uganda links with East West Seed Foundation
Meeting with SNV to share common areas of work on food systems
Sharing experiences on carbon credit programmes with Rabobank's Acorn representative
Looking at product development and circular economy for low income consumers with BopInc
Spain | Philanthropy, climate and health
The second visit was to Barcelona, the venue for the Philanthropy Europe Association (Philea) Forum (30 May – 1 June). This event brought together 750 Philanthropists, Foundations and NGOs for the first time, with a theme of "Philanthropy United – The Time is Now".
Ripple Effect's Trusts & Foundations Manager, Richard Napper attended and found it encouraging to see that many foundations can and want to do more. This has never been more important; the challenges facing our society and planet mean we must collaborate in ways we've never done before.
The interconnected relationships between food security, climate, health, human rights, conflict, democracy and equality – areas where we are facing our biggest challenges as a global society – emerged as the main thread running through the conference. And at this time of reduced institutional funding support, particularly here in the UK, interconnecting the areas in which philanthropy works is critical to finding successful solutions to today's challenges – and the need for continued multi-stakeholder partnerships to make this happen.
Very understandably, a key focus for philanthropic support at the Forum was for Ukraine, but also how this conflict is a challenge for all of Europe and the entire world order. There was a deeply moving presentation, expressing both hope and resilience, by two CEOs of organisations working to support internally displaced people in Ukraine. Eugenia and Inna had travelled over thirty hours from Kyiv to be at the Forum, and gained huge support from the delegates.
A second key focus, more directly relevant to Ripple Effect, was climate and health, and how can philanthropy best help mitigate challenges such as the climate emergency, food security and global health which are so intrinsically linked.
One of the related breakout sessions was hosted by Beltina Iseli, Programme Director for Welthungerhilfe, which triggered passionate discussions around enabling communities themselves lead to a sustainable climate resilient future and how can philanthropy contribute to building resilience in the face of aggravated inequalities in the context of Covid-19 and more recently the war in Ukraine?
A truly uplifting and hopeful session was led by Rob Hopkins, co-founder of the Transition Movement and author of 'From What Is to What If'. As a champion of the collective imagination, Rob facilitated an exploration of how we might rebuild our shared imagination and why it is so vital that we do so.
Networking dinner at Art Nouveau former Hospital de Sant Pau
The opportunity for networking was vast at the event with 750 delegates in attendance! On the Monday evening, Philea hosted a dinner networking session at the fabulous Art Nouveau former Hospital de Sant Pau, which gave the opportunity to connect with key foundations – to build on existing and explore new relationships. Philea Forum 2023 will be held in Sibenik, Croatia where we hope to attend again to make more connections with European partners and foundations to continue these valuable discussions.

Sign up to hear more
Want to hear good news stories from Africa, get involved in fantastic fundraising and be part of exciting events? Fill out your details below and we will keep you updated by email.