A Day in the Life of Jacinter Oduor
---
Jacinter Omina Oduor, 47, works full-time for Ripple Effect as a project facilitator in western Kenya. She was a farmer in a group that SAC was working with when she was first recruited as a peer farmer trainer in 2007.
She is married with three grown up children and a granddaughter, and lives on the family's three-acre farm in the village of Nyalara in Busia County, where she keeps 5 dairy cows, 300 chickens and grows vegetables.
I wake up at 5am and go out to supervise milking, and then I see to my poultry and walk around the vegetables and bananas before coming indoors at 6:30. When I'm travelling out to the remote areas where we work, I need protein for breakfast to get through this day: maybe a sausage, and egg, sweet potato, a mixture of beans and maize, bananas or arrowroot.
At 7:30 I leave for work. The journey is usually about 30 minutes – if I have time I take the bus, but if I'm late I take a motorbike taxi.
Most days I go out to villages to do farm visits and demonstrations, training government workers and community health volunteers as well as our farmers. I support a total of 274 households, organised into groups of 22 members each. I also work with groups like water use committees, peer farmer volunteers, a tree nursery committee and a disaster risk reduction committee.
At the beginning of every month I plan the meetings, training, demonstrations and farm visits I will be doing each day. I call all of the groups in advance to help them organise. Village meetings are usually outside someone's home, under some trees for shade. We need to plan the Covid measures: social distancing, washing hands, providing masks and sanitiser.
On a training day, I start at around 8am with visits to families, along with some other group members, to help them evaluate one another and see where things went wrong and what the farmers did right.
At around 11am, we sit down to work out recommendations, and then we will have a meeting. Because of Covid we are now only allowed train 10-12 people at one time in a group. Before we would have 18 or 20.
Ripple Effect's work starts with the cornerstones – our principles, and a lot of training on social inclusion and gender, improving relationships, and leadership. When the group is working together, we can move on to the project, and the skills they need for that.
We need to address relationships in the family because our work targets 80% women, and in the beginning women are denied land. So even if you train them they can't put it into practice until they have a chance to make decisions in the family.
When women start earning money and bring food for the table, and the family can pay school fees, build a house, even drill for water, then the men realise the wives are also productive, and the training binds the family together.
People see that they can grow vegetables within just three weeks. Some people earn 200 KES in a day (£1.30) selling their produce. Some sell vegetables three or four times in a week and earn more than 7,000 KES (£47).
Training is not a lecture – it is a conversation between you and them. Some people have been to school, and others don't know how to read. We have young, old, people with disabilities. We may use Kiswahili and the local language to make sure everyone understands.
The training session cannot be more than three hours – everyone will get sleepy after that. We sing songs to energise ourselves all the way through. We have songs about how to make compost! When you learn with music you will not forget.
In the afternoon I might do another farm visit until about 5 or 6. Most days I will walk around 10km – I'm a very strong woman!
When I finish I will call a motorbike to take me home.
I get home between 6 and 7pm. I check my cows and chickens, and pick vegetables to sell to my neighbours at the farm gate for about 20 minutes. Then if the house girl hasn't cooked the meal I will prepare supper for the family.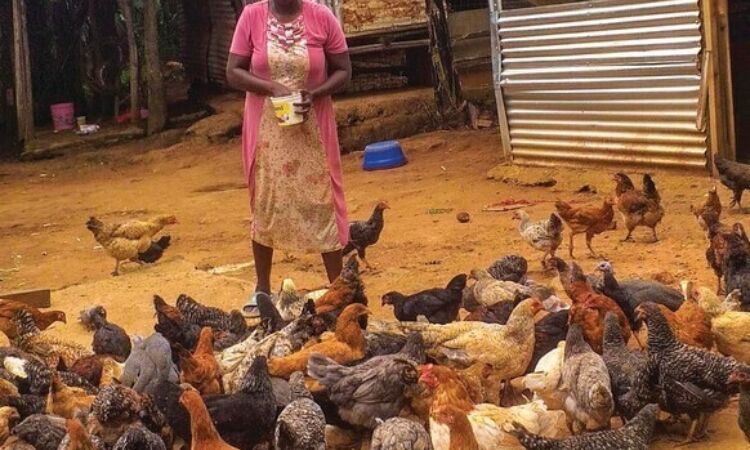 I listen to the news and music, and relax. At around 9pm I will do paperwork for an hour and often there are calls from farmers. Maybe they have an animal that is not well, or they want to tell me good news that a calf has been born. Around 10.30pm I go to bed.
I enjoy my work because my passion is to change the lives of poor people who have lost hope in life. I understand how they feel: I know where the shoe pinches. So it is my joy when I see their lives improved.
Sign up to hear more
Want to hear good news stories from Africa, get involved in fantastic fundraising and be part of exciting events? Fill out your details below and we will keep you updated by email.